The Annual Elisha Darlin Art Award honors a person or persons who have made outstanding contributions to the arts in Dubuque.  Honorees are recognized at an annual awards banquet.  The award was named in honor of Elisha Darlin (1924-1993), a founder and early board member of Fine Arts Society.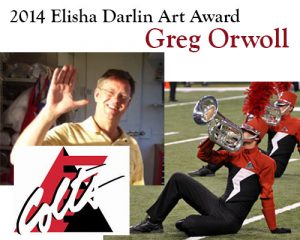 DCFAS Presents 2014 Elisha Darlin Art Award: Greg Owoll
Award Reception & Celebration, Friday, March 28, 2014
The Five Flags Theater
Dubuque County Fine Arts Society is proud to announce that they will present Greg Orwoll with the 34th annual Elisha Darlin Art Award at a reception on Friday, March 28 at the Five Flags Theater.
Five Flags Arena doors on Main St. will open for reception at 6PM where appetizers will be served with cash bar.  Award ceremony will begin in Five Flags Theater at 7PM.
Tickets on sale Friday March 7, 2014 at 10AM
General admission $25, Group of ten or more receive $3 discount
Tickets available at Five Flags Box Office and Ticketmaster.com, or email EDAward@DCFAS.org to reserve you tickets.
An annual award presented by the Dubuque County Fine Arts Society, the Elisha Darlin Arts Award honors an individual or group that has made an outstanding contribution to the arts.  Named after the late Elisha Darlin, an educator and founding board member of Dubuque County Fine Arts Society, past recipients of the award include Ruth and Russ Nash, Sue Riedel, Lenore Howard and Doug Donald, Gail Chavenelle, Sandye Voight, Gene Tully, Fran and Ellen Henkels, former Dubuque City Councilwoman Ann Michalski, Connie Twining and Stormy Mochal, and the Dubuque Cultural Preservation Committee among many others.  Last year's award recipient was Dr. William Intriligator, Conductor of the Dubuque Symphony Orchestra
This year, Fine Arts Society presents the award to Greg Orwoll.  Greg's 31 years with Dubuque Colts Dum and Bugle Corps created a rich and encouraging environment for the members.  The Colts have an international reach to bring students to Dubuque to learn, compete, and experience the joy of expression through music and motion.  Award ceremony will include performance by Dubuque Senior High band ensemble and some other fun surprises.